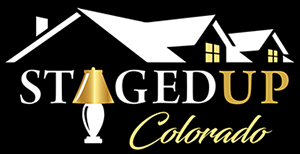 Below is a list of the continuing education courses that we currently have available. If you are interested in scheduling a course with Staged Up Colorado , please click on the Schedule Course button below the course that you are interested in and we will contact you to finalize a date and time. If you have any questions about our continuing education program, please contact us at: .
Home Staging by the Book (2 Credits)
Course Description:
Learn the best practices and fundamental principles to Staging properties and how to communicate the value of professional Home Staging to your sellers. Become a subject matter expert so you can confidently convey the top reasons any home seller must prepare their home for top dollar. Most buyers will shop online first, so proper presentation is key. This course teaches focuses on property preparation before Staging, Home Staging tips room by room, and the art of sharing success stories and results.
Learning Objectives:
By the end of this course, participants will be able to:
Understand the and identify the need for home staging

Avoid common mistakes when hiring a home stager

Understand the impact of location, price, marketing, and presentation for a successful home sale

Communicate the value of home staging
Course Credit:
Real Estate Continuing Education (Colorado)
Schedule Course
Preparing Homes to Sell Quickly (1 Credit)
Course Description:
There is an art and science to preparing homes to sell quickly for top dollar In the real estate market. Gain insights from industry experts on areas to update to bring buyers the most value to help ensure top offers. Learn key tips and marketing techniques to position homes above the competition.
Learning Objectives:
By the end of this course, participants will be able to:
• Implement a selling strategy that differentiates
• Overcome selling & staging objectives
• Understanding the different strategies for staging both occupied and vacant homes
• Implement staging tips to sell faster at a higher price with less stress
Course Credit:
Real Estate Continuing Education (Colorado)
Schedule Course